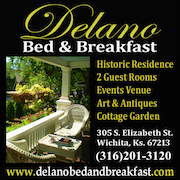 Delano Bed & Breakfast • 316-519-2026
305 S. Elizabeth • Wichita, KS 67213
Delano Bed and Breakfast
Delano Bed and Breakfast is located in the historic Delano district in Wichita, Kansas. This classic bungalow was originally constructed in 1914 by Morris Schollenberger. Mr. Schollenberger along with his two brothers are credited with owning the first gasoline car dealership in Wichita in 1900. One step inside Delano Bed and Breakfast and you'll feel yourself leaving the 21st century behind. You will find the interior to be well appointed with antiques, finely crafted period furnishings, a small library, and original works of art by European and American masters from the early to mid 20th century. Artwork on display throughout the B&B is available for purchase. Outside you can enjoy a nice stroll through our extensive cottage garden, stopping along the way at one of the many seating areas. If you appreciate gardening, you can sit and enjoy the beauty and aroma of flowers in our working green house, complete with a wood burning stove for those cold winter days. We also have our very own German style biergarten (beer garden) available for our guests which can also be reserved for special events. Breakfast is patterned after those found in European B&B's; featuring quiche, fresh breads, selections of cheeses, sliced meats, fresh fruits , cereals, fruit drinks and freshly made espresso, coffee and teas. The Delano B&B is located in the historic Delano district which is centrally located and close to many of the city's major attractions, entertainment districts, museums, city parks and is only a short 8 minute drive from Wichita Mid Continent Airport.
Waterwalk Hotel Apartments • 316-201-1899
411 W. Maple • Wichita, KS 67213
Waterwalk Hotel Apartments
A hybrid of a typical apartment building and an upscale extended stay hotel.
Hours: 24/7