2017 Events
CT-150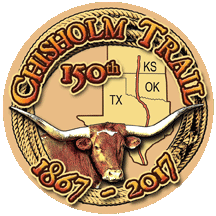 A Full Year of
Chisholm Trail Events
All Across Kansas!
Click here for a full list
March 11, 2017
October 6-8, 2017


Coming in 2017:
Events all year long from Texas to Abilene!
The beef is a Black Angus steer which will be processed at Stroot Locker in Goddard - a state inspected processing locker plant. It was donated by a rancher in Oklahoma and is farm fed.
The steer was grass fed up to 900# and is now on full ration feed to get it to final weight.
For more information or to buy tickets, contact Nancy@historicdelano.com